Useful Tips For Maternity Photography, which needs to be considered to get the best results.
1) Wait for the Right Time: The best time to get maternity photo-shoot done is 8th or starting of 9th month  before  the due date.The mother should feel comfortable to move around plus the  baby bump looks big, round and beautiful.In the later stage, the mother might feel  tiredness during the shoot but it also depends upon  the way how your photographer proceeds with the shoot. To prevent this, I usually give short breaks during the shoot and make  photoshoot more systematic and organised. This has enabled us to take picture with ease even before 4-5 day before delivery 🙂
2)Location : 
Outdoor – Avoid Public areas, if getting the photoshoot done in front of people make you conscious & you think it will be difficult for you to pose.However the quality of output, variation and background  that comes  out outdoor shoots in  natural lighting can't be produced indoor.Apart from a park, isolated locations like an open field, farm, mountain, lakeside, urban areas can also be considered.
At Home: When you shoot a mommy-to-be in her own home she's comfortable to let go in a way that she may not be otherwise.it's wonderful for a couple to have a capture that truly shows what their life was like at the time their baby came to be a part of their family. These pictures look more and realistic and relate to the lifestyle
NOTE: Good Lighting is the key to get good pictures while location just compliments as the backdrop.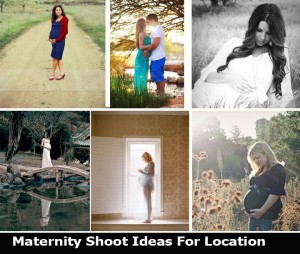 3)Timing to conduct shoot: There is no restriction on timing, If its done indoor (the only point is to consider the time when light entering via window is good enough) . While for outdoors the best timing to conduct shoot is between 2-3 hours  after sunrise i.e 7-10 Am and 2-3 hours before sunset i.e 4-7 pm.The time which is to avoid is noon when the sun is above head which may cause shadows beneath face, nose etc
4)Costume: Wear something in which bump appears beautifully and you feel comfortable. Something which reflects your personality. Dresses, cardigan, buttoned shirt, gown, body hugging top can be worn
NOTE: Try to Avoid loose dresses and dress with frills as they hide the round shaped belly.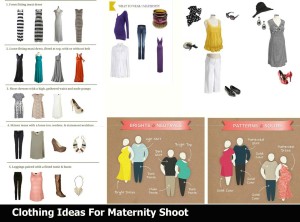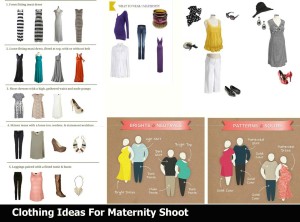 5)Be calm – Feel beautiful, don't be shy, Interact & feel comfortable with your photographer.  And that he is sensitive towards your feelings and exposure.  It's important to discuss your intended level of exposure with your photographer in advance to help avoid embarrassment on the day of the shoot.
You may have concerns about stretch marks – perhaps from a previous pregnancy. Your photographer will understand these concerns and be able to help hide marks through lighting and posing or post processing
Tell him if anything is making you nervous.Take a break, think what is going wrong and get back to shoot. However if you still feel a little anxious, a great tip is to close your eyes and put your hands on your belly.  Feel and think about your baby. Before you know it, you'll smile and the twinkle will return to your eyes and you will connect with your baby. 🙂
NOTE:  Keep your energy level high. Take the shoot as a fun time ,enjoy it because its shoot not an exam 😛 . The more you will enjoy in the shoot the better will be the photographs. Keep your food and water with you to take energy sips in between. 
6) Express your ideas to the photographer- If you already have some ideas for the shoot discuss them with your photographer. He might help you to freeze those ideas in a beautiful way. Rather then going blank for the shoot, do some research by simply having a look at some images over the internet. Explore the possibilities,  posing, props, costume. You photographer will always appreciate your efforts and it will ease his work and help him out to take better photographs.
7)Focus: Focus should be on the shoot,  rather than caring what people are thinking. A good picture mutually benefits both the client and the photographer. Your focus should always be on you, your expressions, your emotions, your personality, your joy and your connection. Your belly will be the primary focus.  Your photographer will take photographs from different angles to create different perspectives of your tummy to give it a rounder appearance and perhaps make it appear clearer and larger to draw the viewer's attention
8)Highlight Relationship – Include your husband and sibling  in the frame. And if the father-to-be is also there, he should offer  her lots of encouragement during the shoot.
Comments
comments